Environment
CarbonPositive RESET! 1.5°C World Educate-In
The What: The CarbonPositive RESET! 1.5°C World Educate-In is scheduled as full-day "how-to" occasions in three international areas and time zones, and can showcase the simplest constructing supplies, building strategies, design instruments, structure and planning methods, practices and insurance policies for dramatically and quickly decreasing the embodied and operational carbon emissions as we take this important second to RESET targets and actions to satisfy the Paris Settlement.
Be a part of Structure 2030 and specialists from all over the world this September to be taught and speed up the adjustments wanted to make carbon reductions that may restrict international warming to 1.5°C above pre-industrial temperatures. CarbonPositive RESET! might be segmented into morning basic classes and afternoon breakout classes that can discover all points of the constructed setting – try the agenda for extra info.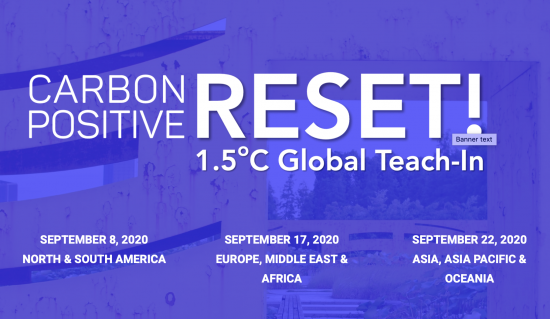 The When: Educate-In Dates:
September 8, 2020 – North America and South America
September 17, 2020 – Europe, Center East and Africa
September 22, 2020 – Asia, Asia Pacific and Oceania
The The place: On-line.
The Who: Members of the structure, engineering, planning, coverage making, building, improvement, and local weather change communities, and anybody is who dedicated to doing one thing concerning the international motion to dramatically scale back the embodied and operational carbon emissions.
The How: Register right here.
The Particulars: 
Keynote by Ed Mazria, Structure 2030: Reset! Timing is Every thing
Keynote: Reset! Urbanization: Pandemics, Sprawl, and Local weather Change
Keynote: Reset! Follow: Professionals and Organizations Making Large Strikes
Keynote: Reset! Structure: Designing to Meet 1.5°C
Keynote: Reset! Embodied Carbon: Cut back, Reuse, Sequester
Device Tutorials: Devoted Demos #1
Design with Local weather: Kind Follows Efficiency
(Re)Design: Repurpose, Re-Pores and skin, Renovate
Core Supplies: Higher Concrete, Higher Metal
It's Electrifying! Powering Our Buildings With out Fossil Fuels
The City Repair: Resilient Cities
Forest and Bushes (and Grass): Procuring Local weather Sensible Mass Timber and Bamboo
Proliferating Renewables: Producing and Procuring Renewable Vitality
Soak It Up: Carbon Sequestering Websites
Rising Up: Designing with Mass Timber and Bamboo
Device Tutorials: Devoted Demos #2
Device Tutorials: Devoted Demos #3
Attaining Zero: Codes and Insurance policies for Zero Emissions in New and Current Constructing Operations
Finishing the Circle: In the direction of a Round Financial system
Proper-sizing: Core Constructing Materials  Optimization
Vitality Upgraded! A Constructing Renovation Showcase
Cities Lead: An Embodied Carbon Coverage Framework
Lock It Up! Carbon Seize Alternatives and Improvements
Design for Local weather: A New Development Showcase
Rethink! Constructing Kind and Typologies
Inside Matter: Materials Impacts, Innovation, and MEP
Device Tutorials: Devoted Demos #4